Reflex success earns students popcorn and popsicles parties!
Fun rewards make it even more exciting for students to become math fact fluent!
Anaeli Arbesu, a math coach at Summerville Advantage Academy in Homestead, FL, first heard about ExploreLearning Reflex during an Instructional Coaches Academy meeting. "What made me try it with our students was the fact that there was research that showed increases in state testing for students that used Reflex. It is a great way to incorporate learning facts in a game-like setting—a great way to capture students' attention."
And she's right! Arbesu says the students in the K-5 school love using Reflex and work hard to become 100% math fact fluent.
Arbesu adds, "Reflex was a great resource during the pandemic since the students were working remotely via computers. We use Reflex for all our students' grades first through fifth as a bellringer, during media, and as homework."
"Even with the pandemic, there was a huge gain in our FSA math scores last year due to the number of students who became fluent in their math facts," she continues.
When you win you get bling!
Arbesu loves the reporting features in Reflex; saying that she uses the group report every month to check overall fluency gains by grade level and class to update the school's Reflex bulletin board and select the monthly class winners for the popcorn or popsicle party.

Popcorn or popsicle party? "Each month I look for one class from each grade level with the highest green light percentage/usage as that month's winner. The winning class gets either a popcorn or popsicle party during lunch. The teacher gets to sport a big gold chain for the month and they receive one of those great blinking Reflex necklaces [available here] to keep," she explains.
Arbesu says, "the teachers and students love the competition and love to brag about being the winner. It's a great way to motivate students."
Arbesu has seen other programs, but nothing compares to Reflex. "The students love the game-like feel that Reflex has—I would recommend Reflex to other educators!"
And we'd recommend a popcorn or popsicle party to anyone!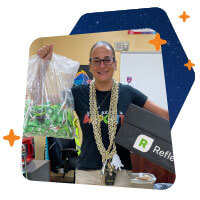 Anaeli Arbesu has been in the education field for 23 years, as a teacher for 10 and is now in her eighth year as a math coach. She loves what she does and seeing the students grow: "They are what I am here for."
STAY CONNECTED
Sign up to get the latest updates from ExploreLearning via occasional email.