Gizmos is this teacher's go-to for making math concepts more concrete
Dr. Sutton describes his school as a "mirror of society." With almost 900 students in grades 6-8, Chamblee Middle School serves a wide range of students from varying economic backgrounds and ability levels. "Despite their many differences, our students are energetic and have a thirst for knowledge."
To help meet the diverse needs of their learners, Chamblee actively uses ExploreLearning Gizmos as part of every math and science learning unit. Dr. Sutton helped integrate Gizmos into the school district's sixth grade unit plans. "I was on a team of teachers this summer that infused Gizmos into every unit that will be used in the 2014-2016 school year. Also, as the Math Chair, I provide Gizmo overviews and tips to encourage teachers to use Gizmos."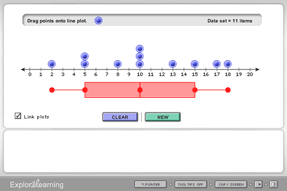 Box-and-Whisker Plot Gizmo
Of all the Gizmos Dr. Sutton uses, he feels the Box and Whisker Plot Gizmo has had the greatest impact on student understanding. "I was amazed at how the Box and Whisker Plot was made more concrete for my students. Also, the Gizmo vocabulary easily aligned to the vocabulary I use in my class. I also loved the way that the Box and Whisker visual can be manipulated so students can see how movement of the extreme values or any of the other values can affect the mean. This really transformed my own thinking regarding the Box and Whisker Plot for the first time.
Dr. Sutton also shared that the Balancing Blocks Gizmo presents the concept of volume in a unique way. "I would have never been able to explain volume with a concept of balance otherwise. The best part about this Gizmo is that it builds on a previous notion of a three-dimensional object that was once only shown on a piece of paper in two dimensions. This Gizmo forces students to use the formula length, width, and height through a process rather than memorization. My students began thinking of ways of coming up with the length x width x height formula, even before they realized it was the formula being broken down into separate (more concrete) parts. I found this Gizmo to be one of the most exciting for many of my students."
With a school-wide implementation of Gizmos and interactive whiteboards, he looks forward to making his lessons even more exciting in the upcoming year. He concludes, "I have loved Gizmos for years. Gizmos definitely complement a lesson and they give visuals and interactions that are unmatched."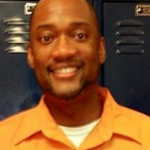 Dr. Carlos Sutton
Dr. Carlos Sutton has been teaching in DeKalb County Georgia for 15 years. He completed his undergraduate studies at Georgia State University, his Masters studies at Central Michigan University, and Doctoral studies at Capella University. He is the Math Department Chair at Chamblee Middle School. He has taught reading, special education, science, social studies and math. He is a three time Teacher of the Year nominee, and an advocate for technology. He has presented at several events including the Georgia Mathematics Conference and statewide Common Core implementation workshops.
STAY CONNECTED
Sign up to get the latest updates from ExploreLearning via occasional email.