The Post-COVID Comeback: Reignite Your Students' Love of Learning as an Administrator
It's still impossible to say what the long-term impact the global pandemic will have had on the economy, human health, society, and—certainly —education. Speaking from a global educational perspective, we're all in the same boat; there is probably not a country in the world that has not seen the pandemic's effects on its children's education. At one point, approximately 1.3 billion students across the world were out of their classrooms ( weforum.org. April 29, 2020).
Distance, virtual, remote, or hybrid learning, no matter the name, was basically the only way to deliver instruction to students in the time of global lockdowns and isolation. More than 65% of U.S. K-12 parents polled said their children participated in online learning ( usafacts.org. Dec. 11, 2020). And while there remains a very real need for increased access to both internet service and technology (computers, tablets, software) worldwide, there is no doubt the situation would have been even more dire without the online learning that was available. Or without administrators like you.
Now you're moving forward—welcoming students back into schools, addressing potential learning loss, and providing support to teachers and students who performed incredibly well under unimaginable circumstances. And you're also trying to decide what tools you'll need to help your teachers manage their classrooms and reignite your students' love of learning.
Here's the thing—as it turns out, online learning worked. A third-party study found that the digital solutions used by schools were considered critical and helpful by both teachers and administrators (Oliver Wyman Market Study, 2021).
That same study showed that digital learning is here to stay. District supplemental spending has shifted from 43% to 68% digital (vs. print) since 2017.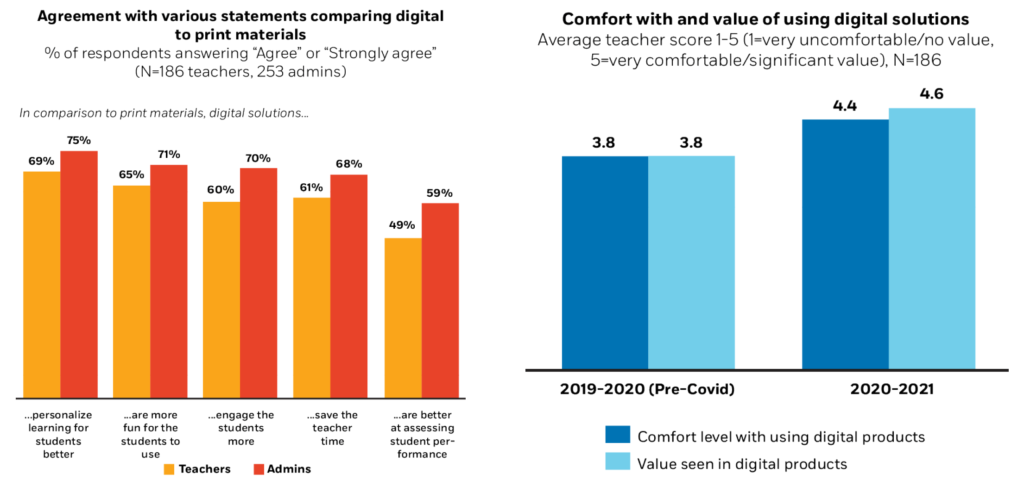 The Tools That Worked
Educators moved quickly and creatively to mitigate the disruption to their students' learning as much as they could. E-learning companies around the world offered their products for free to schools, while schools worked as best they could to get technology into the hands of students who needed it.
The online resources that produced the best results were ones that were available to students completely online, with minimal setup for both teachers and parents. Those that allowed students to work at their own pace, while teachers could easily keep tabs on their progress and intervene when necessary. And ones that could easily adapt to any classroom model—virtual, hybrid, or in-person—at any time.
It was also imperative that online programs supported adaptive and individualized learning, a challenge already in classrooms that was made even more so by the disruptions of the pandemic.
Products that helped teachers differentiate instruction—and easily—meant that the students who might need a little extra help in class, different materials or processes, or just extra time could continue to learn according to their needs, even during online learning.
In addition, the most successful online tools drew students in, making them want to do, learn, and explore more. Programs that are "game-like" but have clear outcomes and goals for students and teach required skills helped keep students engaged and on-task. Gamified learning has been around for some time, but last year encouraged more classrooms than ever to adopt it as a key tool for instruction. Fighting against a whole slew of new distractions, those online games and simulations built students' confidence and marked and celebrated their progress, however incremental.
Those Tools Will Continue to Work
The online products schools relied on successfully through enforced distance learning will work as we go forward. Why?
Ease of implementation. Getting up and running with online tools doesn't take a lot of time for schools and teachers. Once implemented, teachers can get kids on the program quickly, and immediately and continually monitor their progress easily. Online and on-demand professional development is available to help teachers make the most of the products.
Flexibility. Most online products are ready to support any classroom and teacher, and can be used in a variety of ways, from completely replacing in-class instruction to enhancing traditional methods.
Engagement. No matter what the setting, many online products—especially gamified learning—pull students in with engaging, interesting, and fun content that makes them want to get on, play, experiment, and learn. Bringing these tools into your classroom will net that same result.
The learning isn't compromised. Yes, gamified learning is fun. But that doesn't mean your kids aren't learning important concepts or acquiring important skills. Programs that incorporate inquiry-based learning and embed explicit instruction and practice into games (versus games as reward) allow students to learn by doing, employ critical thinking skills, and acquire the knowledge they need to succeed on assessments and in their educational career.

Ability to reach all students. Adaptive and individualized instruction was important before the pandemic; it will be even more important as we move forward. Students who were doing well under normal circumstances may be experiencing issues and learning loss, while students who already experienced challenges have now experienced more. The importance of differentiated, individualized learning can't be overstressed, and there are online learning tools that provide that in abundance. With tailored instruction and rewards for effort and progress, every students' ability, confidence, and motivation can soar.
Getting Back on Track, Moving Forward
The good news is that many products that saw you through remote learning can help your students catch up, keep up, and continue to grow. Many online products are as effective, if not more so, in-class as they are virtually. Look for those that are designed to be adaptable and effective for diverse student groups—ELL, Special Education, Title I, etc. Also, consider their use in summer, after-school, or extended learning environments you might be considering to address learning loss.
Whether you're looking to address learning loss caused by the pandemic, get the technology in place just in case, or bring new ways of learning into your classrooms, there are online solutions that can help.
Funding Your Students' Futures
There is funding available to get online solutions into your classrooms. The Coronavirus Response and Relief Supplemental Appropriations Act, 2021 (CRRSA), was signed into law on Dec. 27, 2020, while the American Rescue Plan Act (ARPA) was passed on March 11, 2021. The acts contain provisions for K-12 education, including:
The Elementary and Secondary School Emergency Relief Fund (ESSER Fund). Awards funds to, "State educational agencies (SEAs) for the purpose of providing local educational agencies (LEAs), including charter schools that are LEAs, with emergency relief funds." The CRRSA provides an additional $54.3 billion for the ESSER II Fund.
In addition, the American Rescue Plan Act provides $122.7 billion in supplemental ESSER funding, known as the ESSER III Fund. The ESSER III Fund includes funding earmarked specifically for: Funding crucial summer, after school, and other extended learning and enrichment programs.
Download

The Post-COVID Comeback: Reignite Your Students' Love of Learning as an Administrator
STAY CONNECTED
Sign up to get the latest updates from ExploreLearning via occasional email.