A Teacher's Guide to Strong Academic Recovery
Your data shows it, and your teacher instinct knows it. Glancing over a student's shoulder, you see them struggling with a concept they should already understand with confidence. Reflecting back on their gradebook entries, you know this student is behind where they need to be, especially as testing season approaches. But how can you support an entire classroom of students requiring various levels of academic interventions?
What is academic recovery?
Simply put, the goal of academic recovery is to identify student gaps in understanding and work to help them reach expected levels of proficiency.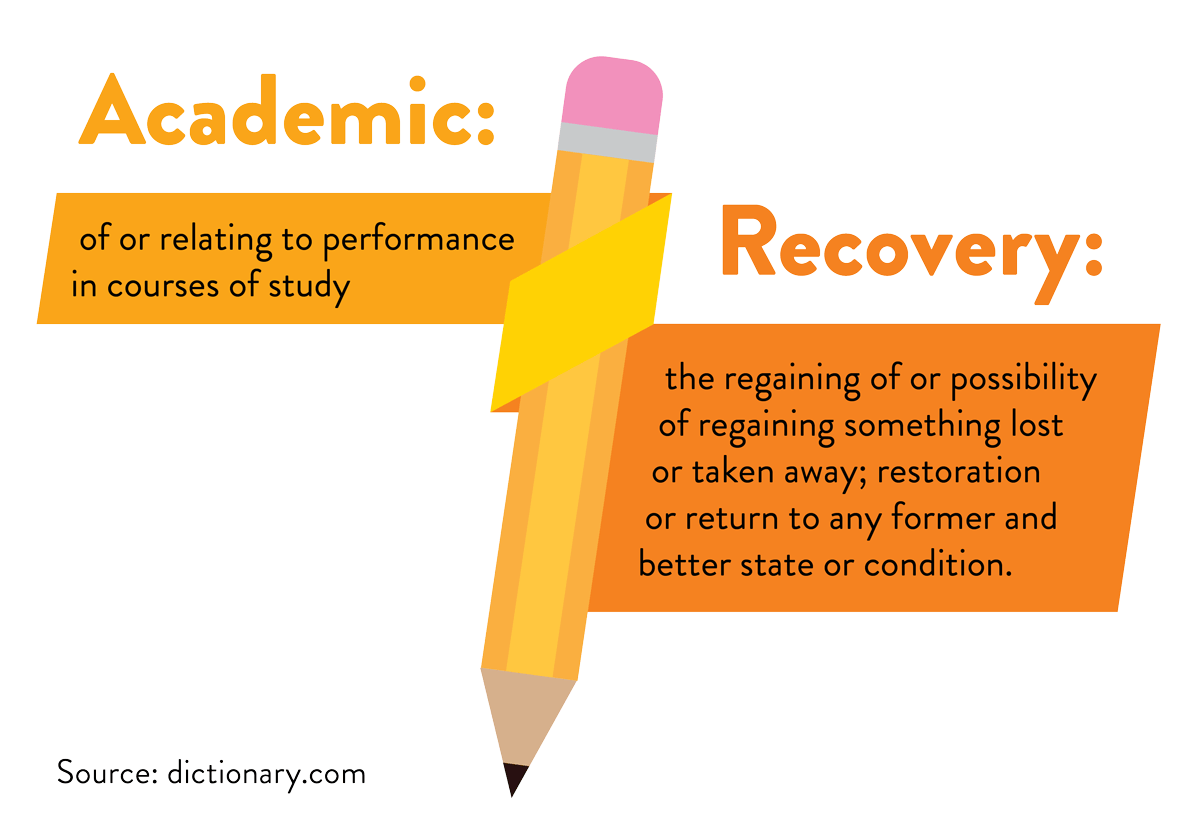 Academic recovery can help close learning gaps
Feeling overwhelmed about how to close learning gaps? You're not alone. The 2022 Nation's Report Card released by the National Assessment of Educational Progress (NAEP) revealed that 4th and 8th grade mathematics scores had the largest decline since initial assessments in 1990. NAEP also reported key findings on teacher confidence. While over 80 percent of students had teachers who expressed confidence to teach this school year, "less than half had teachers who were confident in their ability to address pandemic-related learning gaps."
But remember, some student learning gaps are not solely because of a slide or "loss" in learning, but rather because students never learned the material to begin with during remote learning. According to NPR, students " simply did not learn as much or as well as they would have in person." With post-COVID learning deficits a reality, your students' struggles need to be identified and acted upon in order to see change.
How can I support academic recovery in my classroom?
Identify areas of need
You're a pro at monitoring student learning. Use your knowledge (stemming from student observations, formative assessments, and summative data) to drive strategic interventions that address skills students need help with.
If you work on a larger grade or subject-level team, consider analyzing learner data as a group to see where and how you can intervene to serve more students. If schedules allow, think about how you can offer response to intervention (RTI) groups as a grade level. Student groups meet with different teachers to focus on particular remediation efforts, even if it's once or twice a week.
Dig deeper into why students might be struggling to understand a concept. Perhaps they never mastered the prerequisite skills (like math fact fluency, for example) in prior grade levels, and those skills are building blocks for present-day material they are trying to learn. Your class might need intervention strategies to master the basics before they can advance to more complex tasks.
Provide individualized supports
Differentiation: Class and homework assignments that are modified to meet different student needs can help students catch up and master skills at their own level. Differentiated materials can be helpful for math remediation as your students work to master foundational concepts.
Tutoring: One-on-one or small group tutoring can provide more focused interventions that students often can't receive during whole class instruction. Talk to your administrator and teammates about creating a tutoring schedule. Think about when you could meet with students during the school day (without cutting into your planning time!), or consider outside of school hours if your schedule allows. If your team is stretched thin, academic aides or other staff members might be able to assist with targeted recovery practice.
Technology: Explore adaptive learning platforms and technologies that provide targeted skill practice to maximize learning for each specific child.
Monitor progress (frequently)
Be sure to track the impact interventions are having on student understanding. Give your students a small pre-intervention quiz (five questions or less) over the skill you've identified they need improvement with. Monitor their progress using similar questions in small groups. Also consider including the same questions on an end-of-unit assessment for a clear growth picture.
Helps students see success
Celebrate the power of a growth mindset in your classroom. Teach your students that everyone learns at their own pace and that growth is fun, but it requires hard work. Embrace mistakes, celebrate successes, and encourage risk-taking.
Older students can track their personal progress in a "growth binder" to see the impact hard work has on their understanding. One option to help track progress may be including homework assignments and tests with data tracking charts so students can visualize how much they are learning thanks to targeted practice, giving them further motivation to try their best on future assignments.
Get families involved
Share with families the efforts you're taking to help students catch-up and thrive after years of far-from-ordinary learning. Family partnerships will make recovery stronger, as students might have to complete more work at home or attend tutoring sessions. Be sure to emphasize that you share a common goal: to help their child succeed and reach their full learning potential.
Embrace the journey
Academic recovery requires time and patience. Recognize that results will not be instant, but the journey will be worth it as your students achieve success with foundational skills needed for the rest of their academic careers.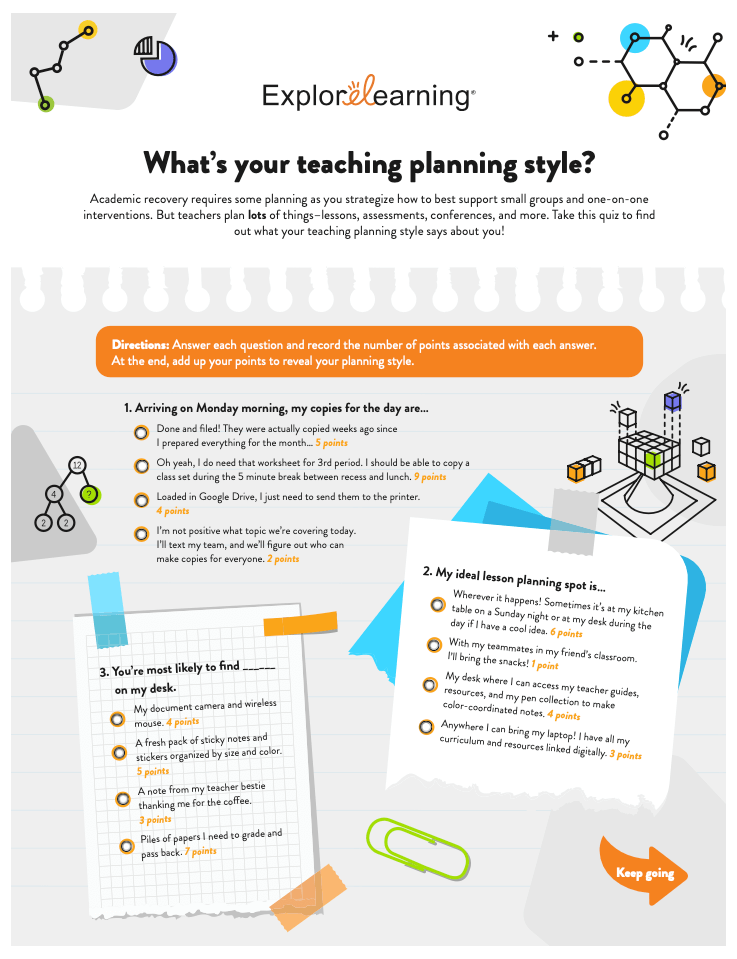 Just for fun: What's your teaching planning style?
Academic recovery requires some planning as you strategize how to best support small groups and one-on-one interventions. But you plan lots of things–lessons, assessments, conferences, and more. Have some fun with this quiz to find out what your teaching planning style says about you!
STAY CONNECTED
Sign up to get the latest updates from ExploreLearning via occasional email.