Track Math Learning Through Effective Progress Monitoring Tools

Teachers sift through a lot of data on any given school day. From the moment the students walk through the classroom door, there's data to evaluate, such as seatwork, homework, assessments, attendance, behavior charts, and reading hours. What's the best way to ensure all of this data is timely and meaningful? Progress monitoring is the answer.

Why is Progress Monitoring Important in Math?
Progress monitoring allows teachers to see beyond the goals of the lesson or even the unit, especially in math class. It brings the bigger picture into clear focus while taking individual strengths and concerns into account. Progress monitoring tools for math equip teachers with solid data to deliver differentiated lessons at the right time for student success.
Progress monitoring isn't just an essential tool for teachers. Students benefit from tracking progress, too. Through progress monitoring, students develop a sense of ownership because they are actively participating in the process. They learn to evaluate their progress and set ambitious yet realistic goals. Through consistent progress monitoring, students can better hold themselves accountable, often leading to more confidence.
Students who are removed from the process and simply going through the motions are disengaged and unmotivated to succeed. They don't see the relevance of lessons to their lives. And many don't understand that math skills build upon each other, making it impossible to connect those crucial dots along the way.
ExploreLearning understands the importance of progress monitoring for teachers and students in math. That's why Reflex and Frax have robust reporting systems that help teachers monitor student usage, track progress, and reward achievements. Teachers can use the tools available in each program to provide students with valuable data about their progress. Take it a step further by celebrating the whole class with charts and bulletin boards that show growth in math concepts.

How to Track Student Progress Using Reflex
Reflex students start at Crabby's Fact Fair with a quick check-in on their fluency. With just-in-time coaching, Coach Penny helps prepare students for success in Reflex games using a fact-family approach. Use these reports to monitor progress as students work to become math fact fluent and ready for more complex problems.
The Fluency Growth Report (Class Report) shows the number of fluent facts gained or the total number of fluent facts over time. Below the graph are statistics on the total number of students, total fluency gain, average student gain, average total usage, and percentage of Green Light sessions.
The Individual Overview Report helps with tracking progress, updating parents for progress reports/report cards, IEPS, and much more!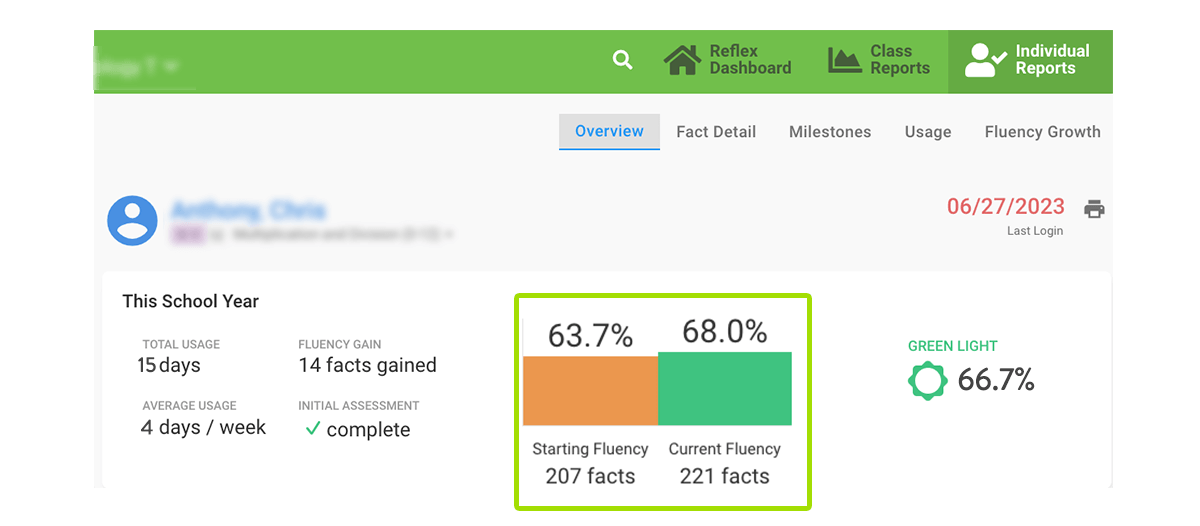 The Individual Fact Detail Report shows the facts in which a student is fluent, and those in which they are still developing fluency. It's available in a fact family pyramid and a traditional "fact grid" format.


How about some other ideas to use with students?
High Score Tracker is the perfect place for students to record their high scores throughout the year! This can be a great way to keep kids motivated and trying their best.
Hold a Green Light Contest. Decide if you want to have students in teams or have students compete individually and track their own green light days.
Reflex certificates are always a great way to motivate students. Find these in the VLC.

How to Use Frax to Monitor Math Progress
With Frax, students come to understand that fractions are numbers, too. The fun challenges, personalized instruction, and motivating rewards help students build their skills and understanding while exploring the galaxy with fractions!
The Group Status Report is your go-to screen when monitoring students as they work in Frax. Each student has a circle indicating whether they are active (blue), struggling (red), or inactive (gray). When the student has completed all available missions for the day, the sector progress bar turns green with a checkmark to indicate that the student is "up-to-date."

The Overview Report provides a snapshot of a student's progress. It includes school year stats for missions completed, time in Frax, and problems solved. It also shows the last login and the student's progress toward core competencies. Any student alerts are listed at the bottom.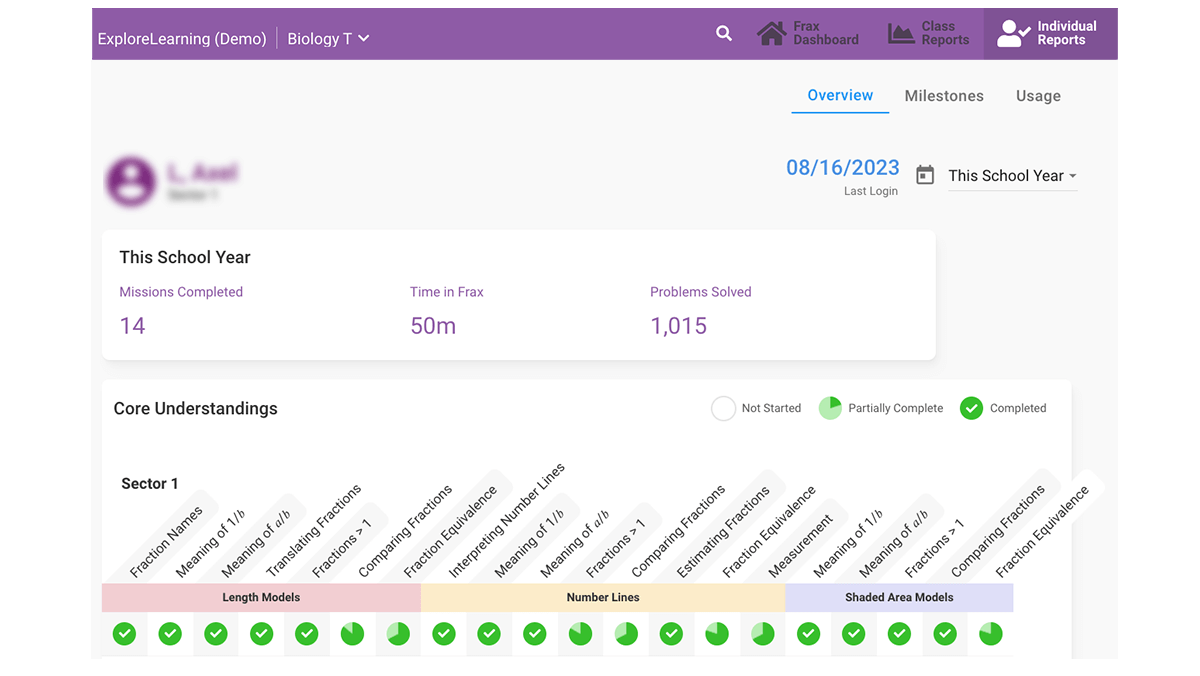 The Usage Details Report is helpful, especially if you use tokens earned as criteria for incentives in your classroom! Through customized date ranges, it's easy to see statistics for total problems solved.

What about other resources for Frax?
This template for Frax certificates can be used for achievement awards. How about awards for Most Tokens Earned, Great Teamwork in Captain's Checkpoints, or Great Fraction Discussions? Find these in the VLC.
Missions Completed Tracker allows students to track their progress throughout Frax and reflect on their learning. Find Quick Checks in the Teacher Guide.
Frax Review Room Green Light Tracker is used when students gain access to the Review Room after completing all Missions in the Sector. The Review Room allows students to continue practicing the skills they learned in that sector's Missions, where the most engaging games reappear in a new, arcade-like format!
Make a habit of studying data with your students. Choose a place to begin in math and other content areas that illustrates the current levels and watch the information grow along with motivation and engagement from the class! When students partner with the teacher to set and reach learning goals, the sky is the limit.
Continue to celebrate effort and success with Reflex and Frax. Join our Virtual Learning Community where Reflex and/or Frax subscribers can share, learn, and grow with other educators.

Reflex & Frax: Teachers' Clubhouse
---

Not a subscriber yet? How about taking out a trial?
Give students 2-5 the foundation they need to succeed at math.
LEARN MORE
Help students 3-5 build deep conceptual fractions understanding.
LEARN MORE
STAY CONNECTED
Sign up to get the latest updates from ExploreLearning via occasional email.