Extending the School Day with Digital Solutions

Extending the school day with digital solutions
With limited hours in the school day, many educators become overwhelmed by how much they have to teach and how little time they have to teach it. With new standards and increasing demands, the problem isn't going away anytime soon. Some school districts have tried to extend the hours in the school day, but many find the financial costs too high.
So how can educators and schools fit more learning into a student's day? And how, with gaming systems, phones, social media, etc., all competing for a student's time and attention, can teachers get students excited about doing their school work?
Engage students with technology to learn new skills
One option is to extend the school day with digital solutions, so that students can continue to work on necessary skills and required subject matter at home or in an afterschool program. Digital solutions that allow students to work independently and don't require support from staff are the most cost effective.
Students enjoy using technology, so some schools are trying to find educational programs that are engaging and fun, and satisfy kids' love for technology. But using technology is only valuable when the digital solution is effective.
What makes an effective digital solution?
A digital solution is successful when it helps students with necessary content and skills they need to learn. It's even more successful when students enjoy the experience and want to do it on their own time. For instance, Reflex is a fun, engaging online learning tool that kids can use inside or outside of school to build math fact fluency. Reflex helps students feel proud of their achievements, excited about math, and successful. And with Frax, a game-based, story-driven solution, students can continue their journey towards fractions mastery. Full of fun challenges and motivating rewards, students enjoy building their fractions understanding--all while exploring the galaxy! In Frax's Sector Review students can reinforce the concepts they've learned through daily mini games. And when they return on a new day, a different set of games and activities await! With so many motivating rewards, students stay engaged and master their fraction skills.
Make sure digital solutions work with the resources your students have
If a program is only available on the school server, or only on one device, for instance, it limits how many students can and will go on after school. Digital options that work on library computers and on most devices, for instance, are the most user-friendly for everyone.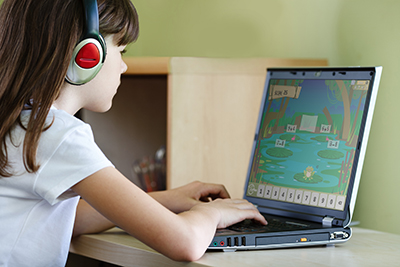 Gizmos, online math and science simulations, are available to students and teachers 24 hours a day, seven days a week. Gizmos can be accessed from anywhere with an Internet connection on Chromebooks, computers, iPads, and even phones. Students can complete homework assignments, or further explore math and science concepts, while teachers can plan lessons or check student understanding of concepts.
Gizmos are also interactive. Students can manipulate key variables, generate and test hypotheses, and engage in extensive "what-if" experimentation that's fun and helps them to think and act like scientists. Gizmos engage and challenge kids. Gizmos also helps students "reason abstractly and quantitatively" and creates an environment where it's okay to be wrong and students can develop conclusions and make arguments that they are not sure of.
Technology is only valuable when the digital solution is effective.
When students have fun, they get excited about learning
Too often, digital solutions are just digitized textbooks or electronic flash cards. If the digital solutions help with inquiry-based learning inside and outside the classroom, or gamify learning so students are having fun, students will find the programs more satisfying and interesting.
When students manipulate Gizmos, they are in control and driving their own learning. When a student plays games in Reflex, they are learning math facts at their own pace and having fun. When a learner explores the galaxy in Frax, they are immersed in fun while building their fraction mastery and math confidence. All three programs are engaging, but also teach important content and skills that set the stage for future success in school.
Conclusion
All schools want to send their students onto the next level both prepared and excited about learning. Digital solutions can help student learn and can get them excited about STEM if the programs are accessible, effective and engaging.
Find out more about Reflex and Gizmos.
Download

Extending the School Day with Digital Solutions
STAY CONNECTED
Sign up to get the latest updates from ExploreLearning via occasional email.