Anatomy of A Scientist: Skills Teachers and Students Need to Succeed in Science
"I don't understand science." "Girls can't do science." "This is hard." This mindset could be hindering both you and your students when it comes to science.
Whether you're teaching AP chemistry or second-grade science alongside four other subjects, you can empower yourself and your students to be confident and capable in science instruction and science learning with the following resources.
Science Means More Than Scientific Knowledge
True, "hard" science skills (like analyzing and predicting) are needed for success in science. But so are social and emotional skills (like collaboration and self-awareness). Students need to not only be able to observe and describe the world around them and to predict and reason, they need to be able to work with others and communicate. Fostering a growth mindset in your students will help them develop both sides of the scientist equation.
Find the skills that make a successful scientist in our Anatomy of a Scientist poster below. Download to display in your classrooms.
Anatomy of a Scientist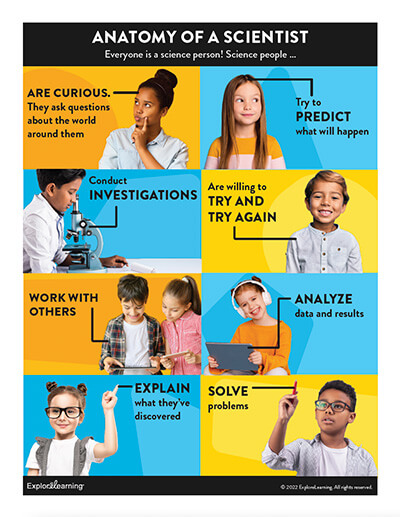 Science is for everyone! Scientists …
Are Curious. They ask questions about the world around them
Try to Predict what will happen
Conduct Investigations
Are willing to Try and Try Again
Work with others
Analyze data and results
Explain what they've discovered
Solve problems
Teachers Need the Right Mindset too!
As science curriculum, budgets, and resources change almost daily, teachers themselves might need to build confidence in teaching science. As you take a look at your science instruction, be sure to consider your instructional mindset as well. A teachers' growth mindset can greatly affect student performance, leading to improved science skills. When you reexamine your perceptions of ability and adopt a confident and encouraging mindset, you can see an improvement in your students' attitudes towards science.
Remind yourself of the skills you need–and have–to help your students succeed in science with this Anatomy of a Science Teacher poster.
What Makes A Science Teacher Great?
Science Teachers…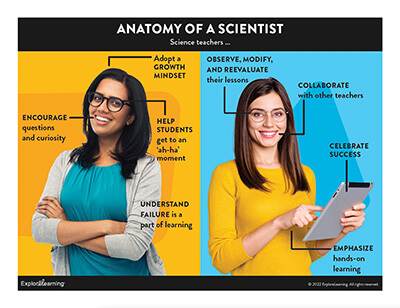 Adopt a growth mindset
Observe, modify, and reevaluate their lessons
Encourage questions and curiosity
Understand failure is a part of learning
Collaborate with other teachers
Emphasize hands-on learning
Celebrate success
Encourage communication and discussion
Help students get to an 'ah-ha' moment
More Science Resources and Tools
Build science skills and confidence with ExploreLearning science solutions.
Gizmos (Grades 3-12)
Virtual math and science simulations that bring powerful interactive learning experiences to your classroom. More than 450 Gizmos help students dig deeper into STEM subjects and really understand challenging concepts.
Sign up for a free 30-day trial
Science4Us (Grades K-2)
Thousands of online and offline science activities help introduce foundational science concepts that engage your youngest learners' natural curiosity and set them up for STEM success.
Sign up for a free 30-day trial
STAY CONNECTED
Sign up to get the latest updates from ExploreLearning via occasional email.