Now Available: Frax Foundations 2

Since its debut in 2021, ExploreLearning Frax has been shaking up the fractions scene. Frax helps students in grades 3-5 master foundational fractions skills through research-driven methods and interactive games in an out-of-this-world galaxy setting.
In a recent study, more than 99.7% of educators reported improvements in student learning and engagement using Frax, while 87% considered Frax a better program than any previously utilized to teach fractions (ExploreLearning, 2022). Teachers also noted increased student participation, self-esteem, and fact-learning thanks to the platform.
But fractions success doesn't have to stop there. ExploreLearning is excited to introduce Frax Foundations 2, an extensive expansion to Frax, that is now available for teachers and students.
Meet Frax Foundations 2
The newest addition of Frax builds on core knowledge learned in Frax Foundations 1, taking fraction learning (and student engagement) to brand new heights.
Frax Foundations 2 areas of focus:
Early fraction arithmetic

Decomposing fractions
Addition and subtraction with like denominators
Multiplication of a whole number by a fraction

Introducing decimal notation (tenths and hundredths)
Fraction and decimal number line estimation
Creating equivalent fractions
Comparing any two fractions
New additions for students:
30 new lesson missions
New rewards and ways to spend those hard-earned tokens by building a Happy Acres space farm!
Exciting storylines and games (keep reading for some sneak peeks)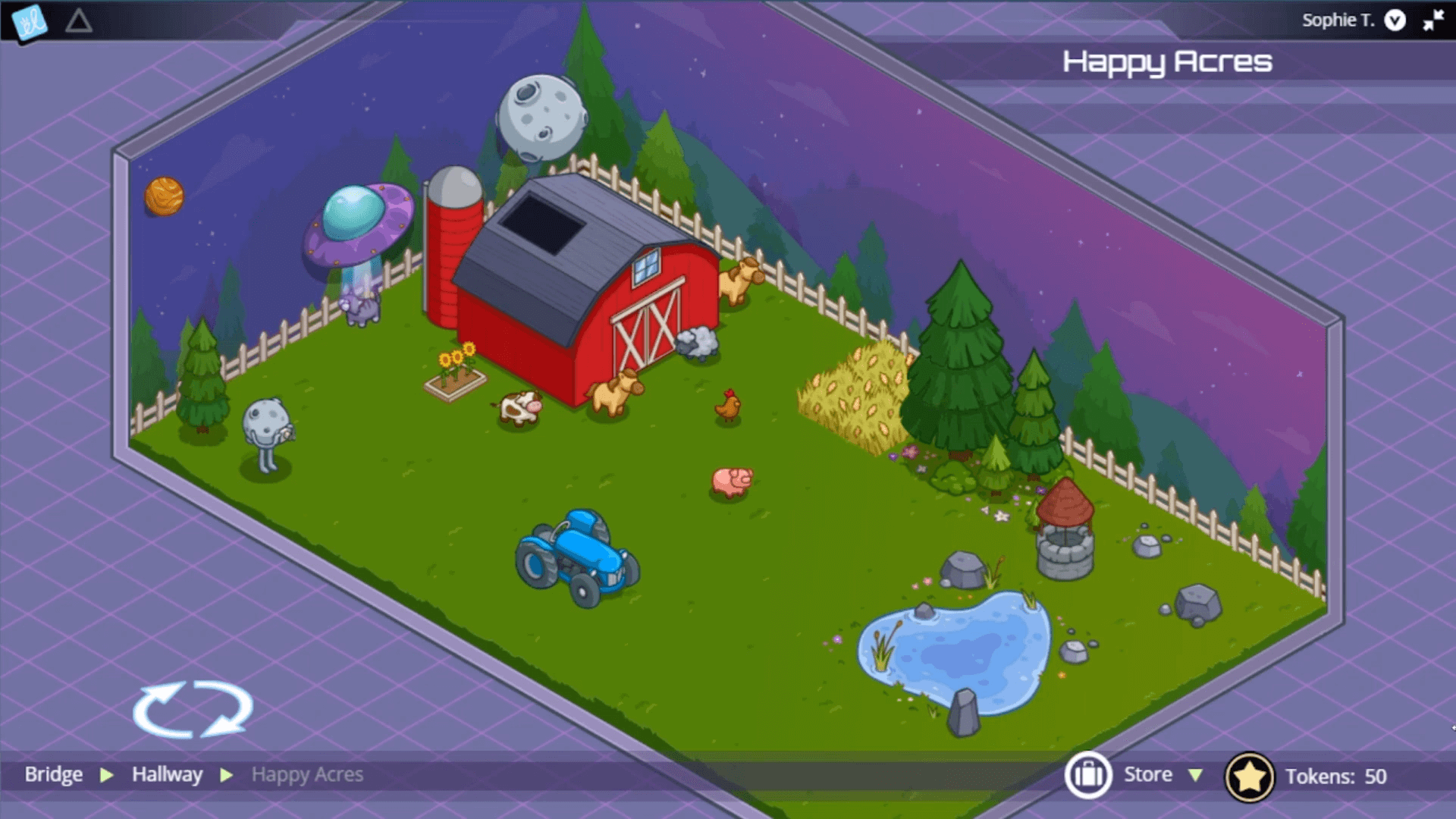 New activities to boost fractions learning
Students can engage with fractions in brand new ways thanks to more new math games and storylines in Frax Foundations 2. While we can't spoil all the fun for your students, here are some highlights.
Boogie Bots: On the Frax dance floor, each team of bots knows what it likes: whole numbers, mixed numbers, or fractions. Students must translate fractions from one form to another to give each group what it wants. When the bots get enough, it's time for a dance battle – with the student acting as the judge!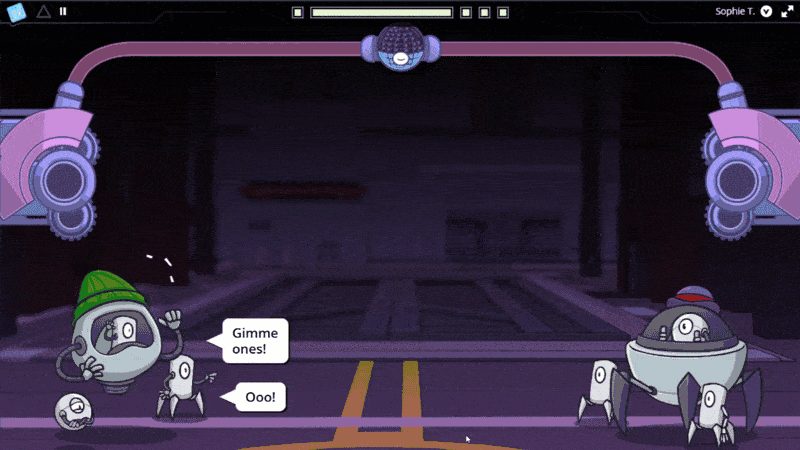 Chop Shop: Sometimes a fraction is a proper size, but the pieces are too big. Frax characters Gas and Gus are here to help! Students must bring fractions to their expert shredding "equivalence service." Gas and Gus will turn big blocks into smaller ones while students see equivalent fractions in action. Same fraction, smaller blocks, bigger smiles!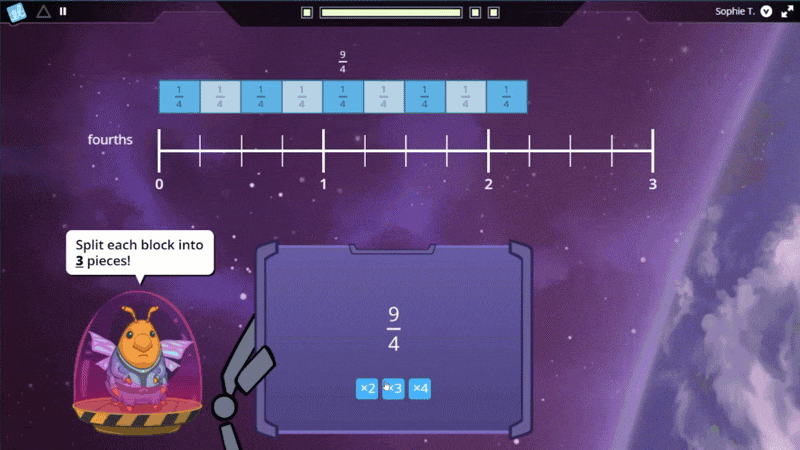 Ghost Ship: ProbeBot is damaged and trapped on a haunted ship! Students must use fractions to guide the bot home by adding and subtracting mixed numbers. Along the way, users search junk piles for parts they can use to rebuild. Listen to the advice of the friendly ghost bots, but watch out for monsters!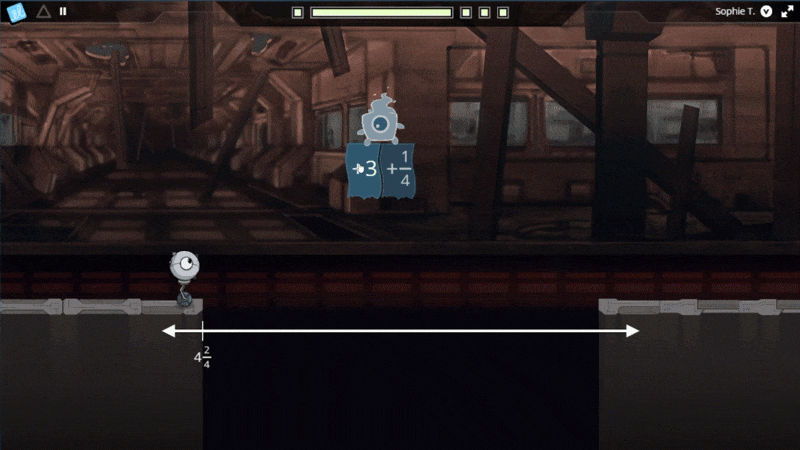 Nanobots: Metal-melting Nanobots spilled in the lab! The bots are so tiny that students must zoom in on a number line to see them. Learners must guide a precision VacBot using fractions in tenths and hundredths and put their knowledge of the corresponding decimals to the test to clean up additional lab spills.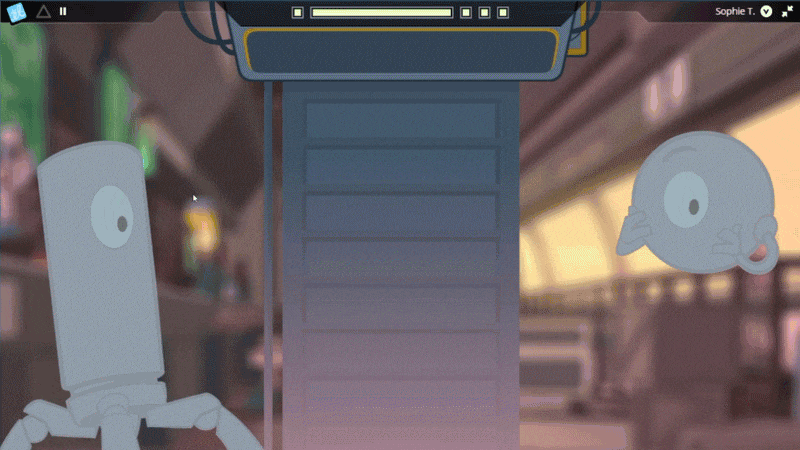 What's covered in Frax Foundations 1 again?
Frax Foundations 2 seamlessly enhances the knowledge students gained in Frax Foundations 1. Once students complete the excitement in Foundations 1, they can join the crew for 30 new missions in Foundations 2.
Frax Foundations 1 areas of focus:
Understanding fractions

Length models
Number lines
Area models
Fraction magnitude

Comparing and ordering
Basic equivalence
Beginning number line estimation
Access the first five missions of Frax Foundations 1!
Experience Frax
It's an exciting time for fractions! Frax Foundations 2 is now available. Contact our team today to learn about bringing the fractions fun to your district, school, or classroom.
New to Frax and looking to start the journey? Our team is ready to answer questions and show you more. Current Frax Foundations 1 subscribers can contact their sales representative for more information about taking fractions to the next level.
Learn More About Frax
STAY CONNECTED
Sign up to get the latest updates from ExploreLearning via occasional email.