6 Simple Ways to Build Math Fact Fluency
When students solve an addition problem by counting on their fingers or penciling tally marks on a page, it can be time-consuming. That's where math fact fluency comes into play! Math fact fluency is the ability to quickly and accurately recall addition, subtraction, multiplication, and division facts. And once students master those math facts, they'll have the skills and confidence to take on more complex math problems and ace the end-of-the-year exams.
But how do you structure your instruction so that your students achieve math fact fluency? Follow these simple teaching strategies to help your students become math fact fluent in no time.
1. Daily Practice Makes Progress
To hone any skill, you need ample amount of practice. Building math fact fluency is no different. Provide students the opportunity to engage in daily math fact practice. Even just 10-15 minutes a day can help students achieve mastery. And with ExploreLearning Reflex, students can get that daily practice at a click of a button.
2. Improve Mental Math Skills
Sometimes students won't have a paper or pencil in hand. That's why when it comes to mastering math facts, it's important to teach mental math strategies. With addition, make sure to teach students ways to make ten as well as doubles facts. Other strategies, like being familiar with math fact families, can help with mastering addition, subtraction, multiplication, and division. The ExploreLearning Reflex system is based on a fact family approach that builds on and reinforces important math concepts such as the commutative property.
3. Get to Talking About Math
Math fact fluency isn't just rote memorization. Allow students to build number sense through number talks, where students are able to share their reasoning on how they found the answer to math problems. For example, give students a math fact problem of the day and ask students how they solved it. Students can partner up and think, pair, and share how they got their answer. Students can also share their strategies to the whole class.
4. Make Math Facts Fun With Games
1+1 can be fun! Get students excited about math fact practice through online and offline games. Offline games, like math fact bingo or math fact scoot, engage students in fun and competitive math fact practice. Many online programs, like ExploreLearning Reflex, provide students with math fact practice that doesn't even feel like learning. Reflex's fun-filled math fact games allow students to practice and play at their own pace.
5. Switch Up Math Fact Practice
Math fact practice doesn't have to look the same every day. Incorporate a variety ways students can add, subtract, multiply, and divide. Sing a math fact tune, get hands-on with math manipulatives, or jot down and journal about math facts.
6. Track Progress and Celebrate Success
Ensure your students are on the path to math fact success and take the time to monitor student progress. Administer informal and formal assessments to see how well your students are mastering math facts. You can even invite students to track their own growth. And don't forget to praise their achievements! ExploreLearning Reflex makes it easy to both track and celebrate through powerful reporting features. Plus, students are rewarded and motivated throughout their gameplay as they earn tokens for their efforts and improvements.
Make sure to use these teaching strategies to guide your students towards math fact mastery.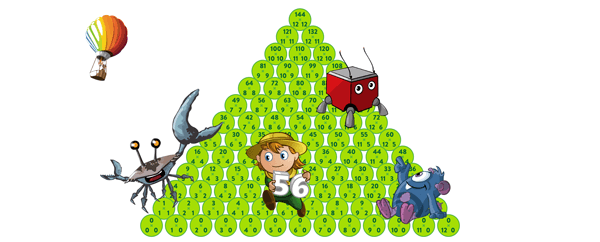 Looking for additional resources to help your students become math fact fluent quickly and easily?
Try ExploreLearning Reflex! Adaptive and individualized, Reflex is the most effective system for mastering basic facts in addition, subtraction, multiplication, and division. Full of games that students love, Reflex takes students at every level and helps them quickly gain math fact fluency and confidence. And educators and parents love the powerful reporting that allows them to monitor progress and celebrate success.
STAY CONNECTED
Sign up to get the latest updates from ExploreLearning via occasional email.